Website Re-Launch for Soho Paper Products
New client website goes live - website re-launch for Soho Paper Products. The Soho Paper website was in need of modernisation and a de-clutter. Many elements of the old website were untidy and out of balance, with a mixture of confusing styles and sizing elements. We rebuilt the website with a fresh and organised approach, making it easier for customers to be guided to the appropriate product items, together with a mobile friendly responsive version.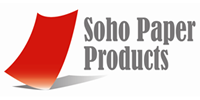 View the website here : www.sohopaper.co.uk

What our client says...
After speaking with Zig Zag Design for a number of years about designing a new website, Penny had the patience to bear with me and we eventually committed to a new Website & SEO. She took the time to listen and understand what we were trying to achieve.
My only regret was that I didn't commit earlier - something else always seemed to crop up. The new site has made ordering clearer and sales are on the increase. JB