Website Re-Launch for Soho Paper Products
Wednesday, 14 November 2018 | Zigzag Web Design
New client website goes live - website re-launch for Soho Paper Products. The Soho Paper website was in need of modernisation and a de-clutter. Many elements of the old website were untidy and out of balance, with a mixture of confusing styles and sizing elements. We rebuilt the website with a fresh and organised approach, making it easier for customers to be guided to the appropriate product items, together with a mobile friendly responsive version.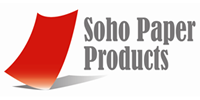 View the website here : www.sohopaper.co.uk

What our client says...