New Website Launch for The Vanilla Valley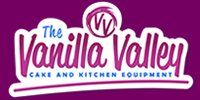 New client website goes live - The Vanilla Valley , Cake & Kitchen Equipment.
UK's most respected cake decorating suppliers - The Vanilla Valley, based in Cardiff, specialise in providing a complete range of cake decorating supplies and equipment for professionals and hobby bakers. Zigzag were tasked with a complete redesign of the entire website. As a well established online business we had to facilitate a very smooth transition to the new site and ensure the company branding was enhanced to reassure the existing client base.
View the website here : www.thevanillavalley.co.uk

What our client says...
We have been using the (..) E-commerce software for a number of years and made the decision to upgrade our website template to create a fresher, more modern design. We got in touch with Penny at Zigzag Design and instantly knew that we would be able to work together to realise our ideas. Penny was incredibly helpful and willing to listen to our thoughts on design, before going away to put them into action. We genuinely could not be happier with the finished results and the meticulous approach applied, to ensure that there was no disruption to our live website and orders. Zigzag completely understand the demands of modern website coding and the impact that redesigns can have on website performance. I can genuinely say that our sales and search engine exposure increased almost immediately after launching the new design and there were virtually no issues during the transition. Don't think twice about using Zigzag Design if you want a thorough and professional job doing and Penny was an absolute pleasure to work with.