New Website Launch for The Vanilla Valley
Saturday, 1 May 2021 | Zigzag Web Design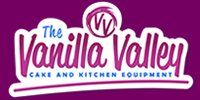 New client website goes live - The Vanilla Valley , Cake & Kitchen Equipment.
UK's most respected cake decorating suppliers - The Vanilla Valley, based in Cardiff, specialise in providing a complete range of cake decorating supplies and equipment for professionals and hobby bakers. Zigzag were tasked with a complete redesign of the entire website. As a well established online business we had to facilitate a very smooth transition to the new site and ensure the company branding was enhanced to reassure the existing client base.
View the website here : www.thevanillavalley.co.uk

What our client says...