Domain Names & Web Hosting
Zigzag Web Design can take care of the purchasing & set up of your domain name and web site hosting for you. We will ensure that your domain name and your web-hosting are both set up in your company name.

If you feel comfortable setting up your own domain name and hosting we recommend the services of Heart Internet. Clicking on the banner below will take you to their web hosting packages which are very competitively priced.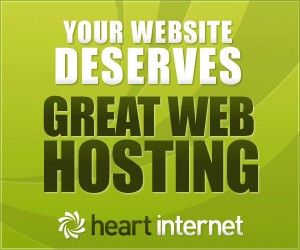 We do not host websites. We do what we are good at - Web Design & SEO. If you need web hosting, we recommend the services of Heart Internet who provide an excellent service at competitive prices.
Clicking on the banner above will take you straight to their website.

About Web Hosting
Web hosting is simply space on a server where your website files are stored. The server makes the files accessible to internet users. Your domain name 'points' at the server location where the website files are stored.
If you have already purchased a domain name without web space then we can set up your web hosting for you and facilitate the transfer of your domain name to the new web host.
Buying a domain and web space as a package is more straightforward and we can set up your domain name & website hosting for you.
Domain Name Registration
If you require domain name registration we can register your website domain name on your behalf. When choosing a domain name you should select either your company name or something memorable related to your business.
If you need any help regarding domain names and web hosting please contact us on 01273 956 977 for impartial advice.
When we design your website, your domain names & web hosting accounts are all registered in your company name. This is a very important administrative factor which many other web design companies overlook. You or your Business should be the registered owner of your domains.
Web design companies who offer web hosting are usually re-sellers. We don't do this. We believe that you, the client, should have ultimate control over your web site and for this reason, your web hosting contract is between you and the host provider.
If you are UK based business, your website should ideally be hosted in the UK, and not with a US or other overseas domain registrar or hosting provider.