Picstop new website launch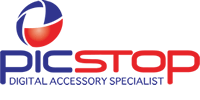 PicStop are an established online retailer specialising in digital accessories with a particular focus on photography and computing including memory cards, camera accessories, USB flash drives, telescopes, binoculars, ink cartidges and more.

Picstop approached Zigzag with a brief to rebuild, redesign and re-launch a new website with a modern and customer-friendly website, and to manage the tricky transition process without loss of customer loyalty and downtime. We are delighted to announce that the new website is live and orders are flowing in ... View the website on the following url ; www.picstop.co.uk

What our client says...
PicStop.co.uk have had an online presence & business since 2000 and have worked with many developers, agencies and designers, in fact it's safe to say we've pretty much seen it all.
We know how important it is to choose the right company to work with especially when you undertake a website move and complete re-design as we did. We definitely made the right choice with ZigZag Web design, from the outset they have been very professional, organised and have delivered a contemporary and user friendly website design that we are very happy with. Don't let their name fool you, ZigZag Web design have also been able to help with many other aspects required for running an online business such as Google advertising and SEO work, there's no point having a great website if nobody knows it's there ! We are completely confident in them and the support they can offer us and expect to be working with then for many years. PicStop.